Quilt Spectacular – May 4 & 5, 2018
"Around the Block"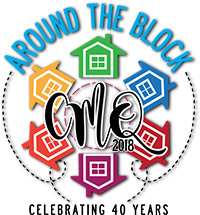 Join us for our 40th anniversary celebration of Columbus Metropolitan Quilters.
Friday, May 4   10 am – 6  pm
Saturday, May 5    10 am – 4  pm
Franklin County Fairgrounds, Ganyard Building
4100 Columbia Street
Hilliard, Ohio 43026
(Click here for a map to the location.)
Admission $6/day or both days for $9; children under 12 free.
Free parking.
Featuring:
Over 100 quilts – vote on your favorites
Silent Auction of Little Quilts and Quilted Items
Opportunity Quilt (with a portion of proceeds going to Pelotonia, supporting cancer research)
Quilting Vendors
Quilting Boutique (garage sale)
Refreshments by Finishing Touches Catering
Door Prizes
Show Vendors:
Around the Block logo by Robert Callaghan (callar330@nullyahoo.com).
---
Kid Quilts Show
Annual exhibit of quilts made by CMQ members for Columbus Board of Health visiting nurse program.  See Service Projects page for more information.
Location: Northwood High Building
Address: 2231 N High St, Columbus, Ohio 43201
Dates: January 2019
Hours: During building hours
---
Inniswood Show
This small annual winter exhibit features quilts, wall hangings, and quilted items with a "flora and fauna" theme. Quilts are exhibited in Innis House at Inniswood Metro Gardens, 940 S Hempstead Road, Westerville, Ohio.  Enjoy a winter stroll through the gardens and natural areas, then warm up in Innis House with our bright and cheerful quilts and wall hangings. CMQ members greet visitors on weekends. (No vendors.)
Location: Inniswood Metro Gardens
Address: 940 S Hempstead Rd, Westerville, OH
Dates: January 16 – February 3, 2019
Hours: 11 am – 4 pm daily (closed Monday).
Free parking and admission to the Innis House and garden trails.
For more information: call 614-895-6216 or 614-882-8409