Monthly Meetings
CMQ meets the third Tuesday of the month at 7 p.m. (unless noted otherwise). In addition to the scheduled program, there is a brief business meeting, show and tell, and more. Meetings usually last until 9:00 p.m.
CMQ meetings are held at Ascension Lutheran Church, 1479 Morse Road, Columbus, OH 43229. (East of I-71 between Maize and Karl).  Click here for directions.
Join us at one of our monthly meetings — guests are always welcome! We hope you will join after attending two meetings.
Quilt Spectacular 2018 – Around the Block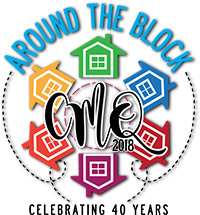 May 4 & 5 – Franklin County Fairgrounds
See the Quilt Shows page.
2018 Programs
May 15 – Debbie Barber Trunk Show
Debbie is a master quilter in the Goodtime Quilters Quilt Guild in Circleville, Ohio. Her quilts demonstrate beautiful hand applique and hand quilting. She also has many miniature quilts that she will share with us.
June 19 – Quilt Finishing Round-table
Several quilters – Irene Goodrich, Judy Sandman Lissa LaGreca and Judy Stacy – will demonstrate and discuss quilt labels, binding, quilt basting and tips and tricks to get your quilt ready for a show.
July 17 – Annual Picnic – 6:00 pm
Details to be Announced 
August 21 – Kid Quilts Sewing Session
Rita Herzberger will get us working in assembly line fashion to complete Kid Quilts to donate to the Columbus Public Health nurses for new moms and babies.  See our Service Projects page.
September 18 – Mother/ Daughter Trunk Show
Ruth Pennell and Rita Herzberger will treat us to a trunk show.
October 16 – Sharon McConnell
Sharon is a quilter and pattern designer.  She will share a simpler way to make curved pieces with her  "Classic Curves Ruler".  She will also treat us with a show of her fabulous quilts. colorgirlquilts.com
November 20  – Innovative Applique & English Paper Piecing Made Modern
Speaker:  Becky Campbell
December 4 – 6:00 – 8:00 PM
Annual Christmas Pot-Luck
Recent program presenters have included Erica Plank, Cassandra Beaver, Maria Spetalnik, and Deb Strain. We've had programs featuring sewing machine maintenance, machine quilting, antique crib quilts, and designing one of a kind applique quilts. These outstanding programs are in addition to our sew-ins and social gatherings.
Quilt Shows
Quilt Spectacular – May 4 & 5, 2018

Kid Quilts – January 2019
Inniswood Show – January 16 – February 3, 2019
For more details about our quilt shows, see the Quilt Shows page.
Inclement Weather
In the event of a meeting cancellation due to inclement weather, members will receive an e-mail or a phone call. Please call one of the CMQ officers if you have not been contacted and you have questions about whether the meeting is cancelled.

© Columbus Metropolitan Quilters (CMQ)